We're writing a new story
for the word "sensitive."
Being an HSP comes with many corresponding strengths, and that's what this book is
about — learning how to
be sensitive and strong!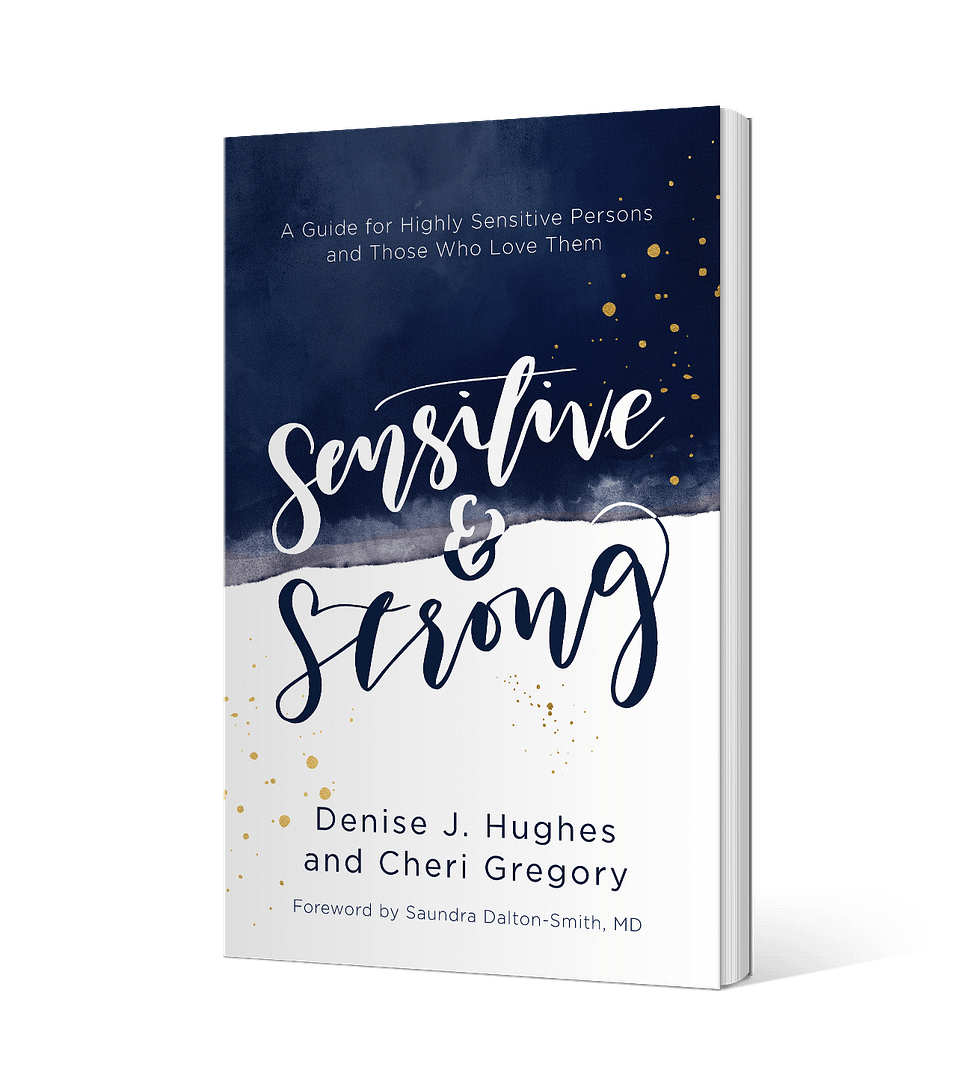 Don't have a copy yet?
Right now, you can order the book
50% off price includes postage to U.S. mailing addresses only.
Embrace the Unique Way God Designed You
Perhaps you're bothered by bright lights or you struggle to tune out background noise. Maybe you're quick to notice the details others miss or you need more time to process events. You may feel emotions deeply and hear, "You're just too sensitive."
But what if you learned you're not "too sensitive"? What if your sensitivity is part of your design and comes with corresponding strengths?
One in five people are HSPs — Highly Sensitive Persons — with the genetic trait of sensory sensitivity. As an HSP, you are not fragile or frail. You can be a strong friend in relationships, a strong partner in business, and a strong member of your community.
Sensitive and Strong is your guide to navigating the HSP journey of exploration and growth. It will help you…
• discover you're different, not defective
• understand your genetic disposition to an over-abundance of stimuli
• see how your sensitivities correlate to key strengths
• respond to stressful situations with confidence and calm
• harness your strengths to serve others
Release the worry that you're "too high maintenance" or just plain "too much" and embrace the many ways you can be both sensitive and strong.
Are you a Highly Sensitive Person?
This book is, quite simply, brilliant. Readers will love the spot-on reminders that God absolutely knew what He was doing when He created sensitive and strong people. If you have ever been called 'sensitive,' and if you've ever felt defective because of it, this empowering book is a must read.
As an HSP I appreciate that Denise and Cheri go beyond biology and address every part of who we are—psychological, emotional, social, and most of all, spiritual. It's powerful to know God made HSPs intentionally and with a purpose.
If you are an HSP, this book is a must read. Not only will it help you feel less alone, but it will also give you practical tools, suggestions, and encouragement to thrive as a highly sensitive person.
Denise and Cheri's passion to help women discover the surprising strengths of their tender hearts, combined with personal stories they share, matched with actionable ideas, give women a voice and courage to flourish. Tender hearts will be lifted, strengthened, and freed.
I'm thrilled to finally have a biblically grounded book I can give someone who is an HSP or who loves an HSP, confident that they'll find solid information, practical guidance, and a new sense of freedom and acceptance as they no-doubtedly inhale this amazing resource.
It's been a game changer to discover that my husband and one of our daughters are Highly Sensitive Persons. If you, too, have an HSP in your family (and the odds are you do!), Sensitive and Strong is your go-to guide.
Cheri and Denise lead us to what's truly essential for our HSP lives. Sensitive and Strong is a holistic plan to make our lives matter by reaching out to others with our unique wiring.
Sensitive and Strong provides an eye-opening catalyst for recognizing whether or not you are an HSP. But it doesn't leave you with that label: Cheri and Denise help you replace negative reactions with intentional healthy choices, providing memorable examples and biblical suggestions for when you feel overwhelmed.
Don't have a copy yet?
Right now, you can order the book
50% off price includes postage to U.S. mailing addresses only.
Denise J. Hughes is a teacher at heart who loves to see women's lives transformed by the Word. She's the author of Deeper Waters: Immersed in the Life-Changing Truth of God's Word and the General Editor for the CSB (in)courage Devotional Bible. She enjoys writing for the First 5 app by Proverbs 31 Ministries, and she always finds time for peach tea, old books, and a good football game.
Through scripture and storytelling, Cheri Gregory delights in helping women draw closer to Jesus—the strength of every tender heart. Cheri is the co-author, with Kathi Lipp, of You Don't Have to Try So Hard and Overwhelmed; with Amy Carroll, she's the co-host of the Grit 'n' Grace podcast and co-author of Exhale; and she's the founder of Sensitive and Strong: the place for the HSP Christian woman to find Community.